The Fabric of India exhibition at the V&A was a history of fabric from India. It showed everything from how the fabric is made, coloured, decorated and used with some of the uses being just spectacular. Some of this information, having been a Textiles teacher for a number of years, was knowledge I already knew, but even in those cases, there was some surprising elements.
As you entered the exhibition space you were shown some of the most beautiful garments from modern India. The first a Sari wrapped over a matching hounds tooth shirt and a stunning red carpet-esque dress with 3D butterflies cascading down onto it's train.
The first room showed you how the fabrics are made and how colour and decoration is applied. Some of the most interesting information for me was where the colours come from. Blue (indigo) comes from the plant indigofera, hence the name. Red comes from several plant roots, of names which were long and complicated to remember and from Lac Beetle cocoons. Yellow, this is the bit that I didn't know before, can come from turmeric and pomegranate rind!! Who knew… I would very much like to try making yellow dye from pomegranate rind.
The way the colour is applied can create patterns and as you can imagine, they of course use tie-dye, but some of the techniques are very intricate; lahariya – creates diagonal concertina stripes, bandhani – similar to shibori, but always small circles and the use of resist block printing.
Block printing is in it's own right a method of applying colour, with magnificently hand crafted wooden blocks that can be used to apply colour, resist or glue (used when applying gold leaf/flocking) to the fabric.
And the way in which the fabric is constructed, i.e. weaving. Common weaving techniques include; brocade, double weave, satin, samite and of course plain.
Decoration takes four forms. The first embellishment, commonly done using mirror work (sewing a small mirror to the fabric) and the application of jewel beetles, just as it sounds. Secondly using metallic thread, sequins and foil to give lavish decoration, obviously only used by the wealthy. Thirdly applique, stitching fabric of another colour and often shaped to a backing fabric, this allows for a much quicker development of image, but in Indian fabrics, would have been accompanied by embroidery also, the fourth form.
There are two main fibres used in the production of Indian fabrics; cotton and silk, but each can be processed to give a multitude of textures.
The embroidery work used in the exhibition was stunning and even if you only go to see the handy work of some very talented people, it's worth it. They use a technique called Ari, where a hooked needle passed through the fabric from front to back and whilst at the back the thread is wrapped around the hook to be pulled up and chain stitched across the fabric. The detail that can be achieved using this technique is unbelievable and one example of this took my breath away. I was unable to take pictures, but similar products can be found on the internet, this one piece was a huge map, fully detailed with people, animals, plants and trees, all hand sewn. It must have been about 2 metres square and each figure was maybe 2 cm high.
The following rooms showed how fabric was used through the ages from religious symbols through to wall hangings for tents. One exhibit that again left me in awe was this Tipu Sultan Tent interior, fully lined with beautiful ornate fabric, that would have certainly made camping glamorous.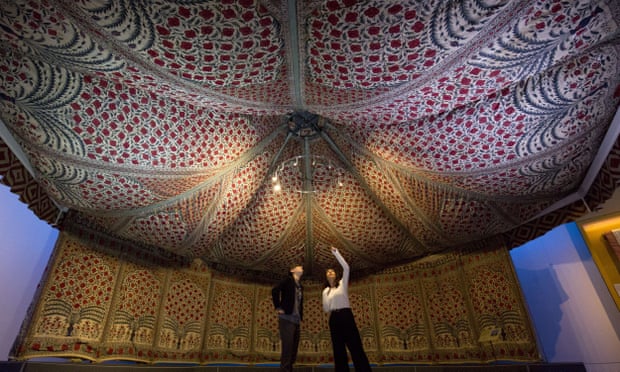 This picture doesn't show by half, how beautiful the tent was, but I will certainly be stocking up on beautiful fabrics, for when I go camping next.
The next room, showed how Indian fabrics had began to influence other countries through trade and sadly the beginning of exploitation. However India never lost it's love for fabric and white muslin became synonymous with Ghandi and the strive for independence which was achieved in 1947.
The final rooms showed how fabrics, although become technologically advanced and synthetic, are no comparison to those that are hand crafted and lovingly made. An example of how the two can combine beautifully can be seen in the work from Manish Arora, India's most well known fashion designer, who combines the hand skills and technology of old and new to create stunning, interesting and intricate garments for the runway and elite.
Images are from S/S16 ready-to-wear show.
Overall, there was a plethora of information, examples and pieces that show just how unwaveringly beautiful, Indian fabric is. Well worth a visit.